CD "JAZZ'S CANVAS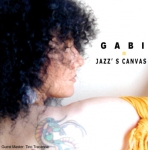 JAZZ'S CANVAS
LOVER MAN

I don't know why but I'm feeling so sad
I long to try something I'll never had
never had no kissin' oh what I've been missin'.
Lover man, oh where can you be.
The night is cold and I'm so all alone
i'd give my soul just to call you on my own.
Got a moon above me but no one to love me.
Lover man, oh where can you be
I've heard it said that the thrill of romance
can be like a heavenly dream.
I go to, to bed with a pray'r that you'll make
love to me strange all it seems.
Some day I'll meat and you dry my tears
the whisper sweet little things in my ears
huggin's and kissin'
Oh what we've been missin'
Lover man, oh where can you be
I've been lookin' I've been searching.


A FOGGY DAY

A foggy day, in London town, it had me low, and it had me down
I viewed the morning, with much alarm, the British Museum, had lost its charm
How long I wondered, could this thing last, but the age of miracles, it hadn't past
And suddenly, I saw you standing right there
And in foggy London town, the sun was shining everywhere



THE MAN I LOVE

Some day he'll come along. The Man I Love; And he'll big and strong,
the man I love; And when he come my way, I'll do my best to make him
stay.

He'll look at me and smile, I'll understand; and in a little while
he'll take my hand; and though it seems absurd,
I know we both won't say a word.

Maybe i shall meet him sunday, maybe Monday, maybe not;
still, I'm sure to meet him one day, May be Tuesday will be my good news day.

He'll build a little home, just meant for two, from which I'll never roam,
Who would, would you? And all so else above,
I'm waiting for the man I love.



MY FUNNY VALENTINE

My Funny Valentine
sweet comic Valentine
you make me smile with my heart.
Your looks are laughable
and photographable, yet, you're my fav'rite work of art.
Is your figure less than greek
is your mouth a little weak
When you open it to speak, are you smart?
But don't change a hair for me, not if you care for me,
stay little Valentine, stay!
Each day, is Valentine's day.

THE NEARNESS OF YOU

It's not pale moon that excites me,
that thrills and delights me,
Oh, no it's just the nearness of you.
It isn't your sweet conversation
that brings this sensation.
Oh, no it's just the nearness of you.
When you're in my arms
and I feel you so close to me.
All my wildest dreams come true
I need no soft lights to enchant me
If you'll only grant me the right
to hold you ever so tight
and too feel in the night
the nearness of you.